ArmA 3 update
Edit
ArmA 3 1.68 was released today (16th March 2017). Its a big update (over 9GB) and has a lot of changes and fixes. You can expect that it will break a lot of mods, including Ravage. This will take time to sort through, so don't be too surprised if you're getting errors in the meantime.
There is also a bug with the current version of CBA (released 25th February 2017). It can cause various problems with Ravage and many other mods. We've been waiting for a fix to be published, but that's likely to be delayed by the ArmA update. In the meantime, use an older version of CBA, such as this one . If you are subscribed to CBA on the Steam Workshop, extract the zip file in the link, start the ArmA 3 launcher and, on the Mods section, select Local Mod. You will see the version linked show up as community Base Addons v3.1.2
Ravage is a mod framework for ArmA 3. It comes with sample missions set on Altis and Tanoa, but has been developed to make it easy to use almost any map (requires the use of the editor). There are many other missions created using Ravage, many of which can be found on the Steam Workshop . Ravage itself is not on the Steam Workshop, so you will have to install it manually.
Downloads
Edit
Download the latest Ravage build here (also has changelogs)
Ravage requires CBA in order to run. You will not be able to save and load without it. Click here to go to the CBA page on Armaholic.
How to install Ravage
Edit
Here's a video showing the installation process: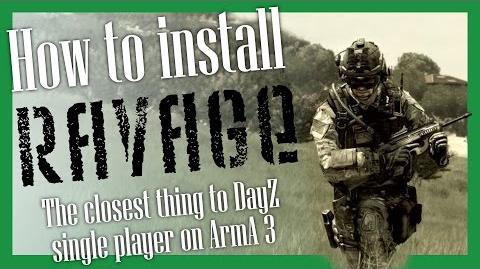 Included missions
Edit
Three missions are included with Ravage. The first is set on Altis and is based on open ended survival. Since 0.1.37, there is also a Tanoa mission included. You must own the Apex DLC for ArmA 3 to be able to play the Tanoa mission. It can be enabled from the launcher through use of sub-mod options. If you don't have that available to you, then you can enable it manually by moving a file. Click here to read a guide covering that. Another demonstration mission is now included with Ravage. It is set 28 years after the outbreak and is task-based, rather than open-ended survival.
Ravage is very difficult and it can often be hard to get going. Check out the Beginner's guide for some tips on how to start playing. See also Controls and actions for detailed coverage of the controls.
Wiki map
Edit
Hey, wiki editors! Want something to do, but don't know what? Try the things that need doing page.
Ad blocker interference detected!
Wikia is a free-to-use site that makes money from advertising. We have a modified experience for viewers using ad blockers

Wikia is not accessible if you've made further modifications. Remove the custom ad blocker rule(s) and the page will load as expected.